S
k
i
p
2
0
%
T
r
i
p
A
d
v
i
s
o
r
F
e
e
Macaw Clay Lick Tambopata 4 Day tour
Discover the incredible biodiversity of the Peruvian Amazon rainforest on this 4 day, 3 night excursion to the Tambopata National Reserve. Travel by motorized canoe deep into the jungle to reach the Chuncho macaw clay lick, where you can observe hundreds of colorful macaws and parrots that gather daily to feed. Enjoy early morning birdwatching tours with expert naturalist guides who will help you spot toucans, tanagers, monkeys and more. Spend your days exploring oxbow lakes and lush rainforest trails, and your nights sleeping in comfortable bungalows built on stilts, surrounded by the sounds of the jungle. This immersive Tambopata jungle tour offers an unforgettable up-close encounter with the Amazon's astounding wildlife.
We´re Local Jungle Operator
Languages:
English, Español
Start In:
Pto. Maldonado airport/bus station/hotel
Ends In:
Pto. Maldonado airport / bus station or hotel
Languages:
English, Español
Start In:
Pto. Maldonado airport/bus station/hotel
Ends In:
Pto. Maldonado airport / bus station or hotel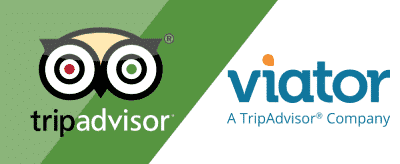 Trip Advisor or Viator Price = $450
Birdwatching, Canopy Walk, Observatory Tower, Cayman search, Jungle walk
Monkey Island, Macaw Clay Lick, Lake Sandoval
3 breakfasts, 3 lunches, 3 dinners
Macaw Clay Lick Tambopata 4 Day tour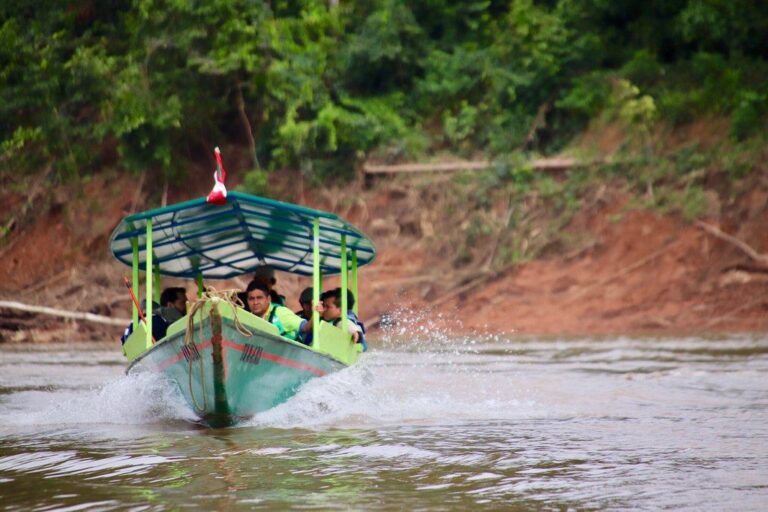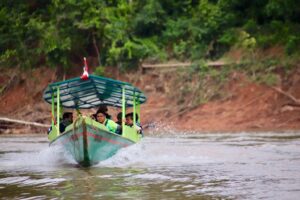 Road trip to natural reserve, motor boat and walk
Day 1.-
Upon arrival in Puerto Maldonado, the capital of Madre de Dios, take a 2-hour bus and boat ride to reach your remote jungle lodge in the Tambopata National Reserve. Enjoy a refreshing welcome drink and introduction to your accommodations, which feature spacious rooms and bungalows with private bathrooms overlooking the rainforest. The property includes a bar, swimming pool, and buffet dining surrounded by monkeys and tropical birds. In the afternoon, embark on a 2-3 km hike through the jungle with expert guides pointing out medicinal plants and the seven monkey species that inhabit the area. You'll also see a variety of exotic birds during the unforgettable rainforest walk. Later, visit the lodge's 50-meter-high canopy tower for spectacular views of the lush Tambopata landscape. You can opt to take an evening boat ride to spot black and white caiman in their natural habitat along the Tambopata River for an amazing up-close wildlife encounter.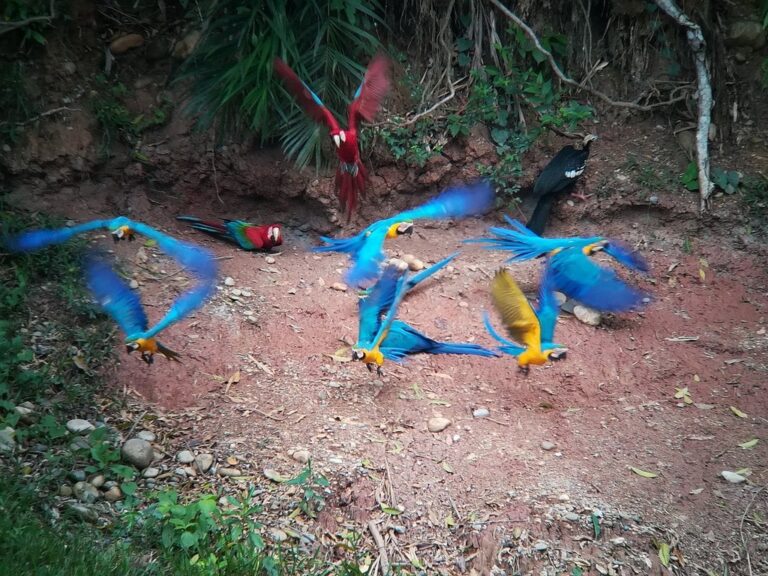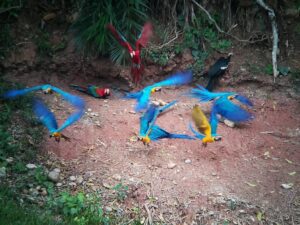 Visit the CHUNCHO Macaw clay lick
Day 2.- We get up early in the morning, at 4:30 am, to take a boat trip to the "collpa" (Quechua word meaning clay with minerals) of the most popular macaws of the Amazon called Chuncho. We will make a trip of 1 hour and a half by motorboat, during the trip we will have the opportunity to see some animals such as, for example, capybaras, tapirs and it is even possible to see the largest cat in South America, the jaguar.Many travelers are witnesses and bring photographic evidence of encounters with many of these wild animals.
After arriving at the macaw clay lick, we will first observe the arrival of large groups of parrots and parrots of different species, which arrive before the macaws to eat the mud located next to the clay wall on the river bank.
We will find a camouflaged place as close as possible to better see the clay lick from our chairs to await the start of one of the most beautiful bird watching views on the planet.In a day of normal activity in the macaw clay lick, you will notice a great selection of these wonderful animals flying over you becoming an unforgettable experience.Back to our ecolodge, we will have breakfast and rest after an exhausting activity.
We will go for Kayaking in the river or the stream depending on your expectation, is a beautiful activity also with big chances to see Capibaras, turttles and river birds during this two hours activity.
hiking out at night when most of the insects are active is our plan. Much easier to find are frogs with shapes and sounds as bizarre as their natural histories. Spiders, tarantulas and even maybe a snake is possible to see.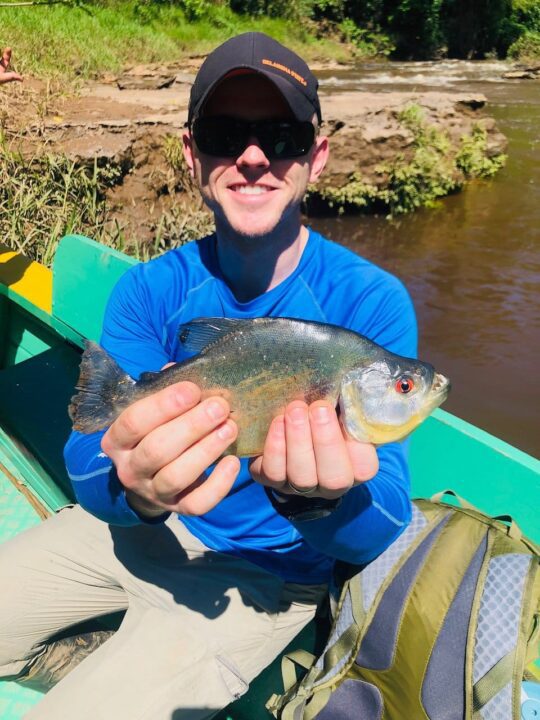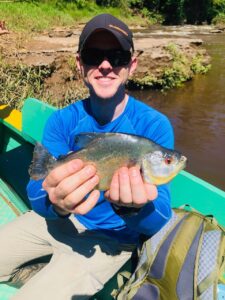 Jungle hike and fishing
Day 3.- This five to eight kilometer trail leads through a picturesque rainforest with huge trees, interspersed with streams and ponds. Among the figs, ceibas and shihuahuacos we will be on the lookout for mammals, lollipops, squirrels, brown capuchins, as well as red howler and peccary howler monkeys. The Collpas Tambopata Inn is located in this habitat.
Time for fishing in the waters of Tambopata river that provide us with a variety of fish such as payaras, pacu (giant piranha), catfish (zungaros, piros, surubim, etc.). We usually fish for two hours on the third afternoon, our local methods always have a good chance of catching some.If you are interested in piranha fishing, we are happy to do it.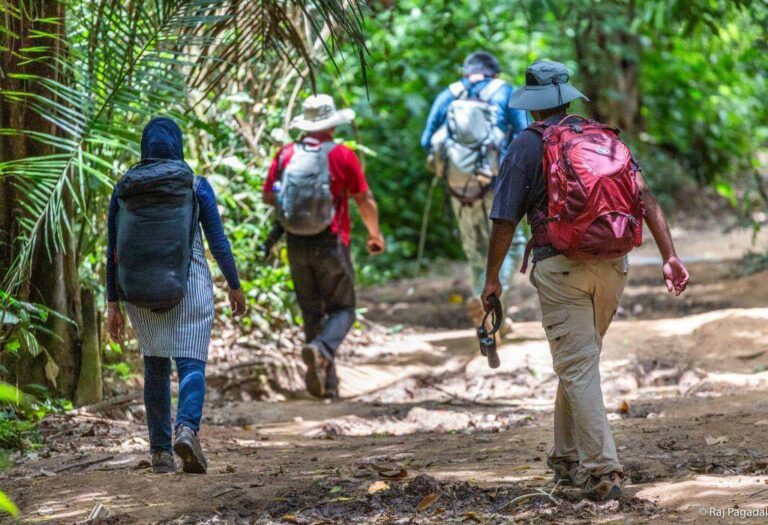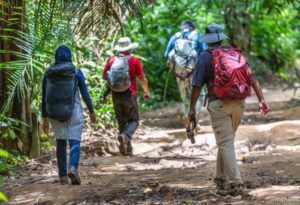 Morning walk to Lagoon
Day 4.-Another type of floodplain forest is available for a half-day activity. We cross the Tambopata river and take a 2-hour walk until we finally reach Lake Quiroz, a small lake with alligators and turtles that are also active during the day. A pleasant walk through the jungle to the Tambopata National Reserve where we will focus on the forest and ecology.
It's time to say goodbye, the journey is coming to an end.
Your visit will make a direct contribution to the Wired Amazon and Tambopata National Reserve.
On the way back to the city, go to the bus station or to the airport, from where you will take your domestic flight
Following Optional Jungle Hotels are available
* If arriving by night bus from Cusco, Puno, etc ( Pick up from bus station is anytime from 5:00 am to 10:00 am) * Tour starts at 10:00 am approx * If arriving by Plane from Cusco, Lima, etc ( Pick up is from airport is from 8:00 am to 14:00 pm) *Tour starts depending on your arrival time, the earlier the better * Pick up from Hotel in Puerto Maldonado cilty is from 8:40 am to 9:20 am * Solo travelers should arrive before 9:40 am, so they can join the group
* This tour ends at 3:00 pm, the drop off to the airport or to the bus station is included at any time, this is possible only on the last day of the tour. * People staying in hotel in Puerto Maldonado the drop off will be at the main square (Plaza de armas)
There are no age restrictions for arrival
We accept all major credit cards including Visa, MasterCard, American Express (AMEX).
We accept also Bank transfer to our account number and PayPal for credit card processing.