S
k
i
p
2
0
%
T
r
i
p
A
d
v
i
s
o
r
F
e
e
Macaw Amazon Scientific Research Center 4 Days
We´re Local Jungle Operator
Languages:
English, Español
Start In:
Pto. Maldonado airport/bus station/hotel
Ends In:
Pto. Maldonado airport/bus station/hotel
Languages:
English, Español
Start In:
Pto. Maldonado airport/bus station/hotel
Ends In:
Pto. Maldonado airport/bus station/hotel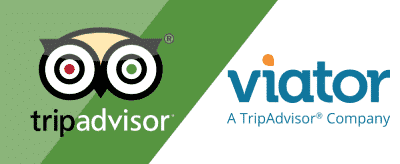 Trip Advisor or Viator Price = $1200
Cayman search, Birdwatching, Jungle walk, Canopy Walk, Kayaking
Tambopata River, Macaw Clay Lick
3 breakfasts, 3 lunches, 3 dinners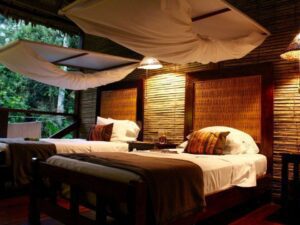 Heart of National Reserve of Tambopata
Day 1
Arrive in Puerto Maldonado, the capital of Madre de Dios, and join a 1-hour bus and 2.5-hour boat ride to the lodge. Your first taste of Amazonian gastronomy will be in the river while you leave the city to enjoy the incredible jungle landscapes.
As we cross the confluence with the Malinowski River, we will leave behind the last traces of human habitation. Within the uninhabited core of 700,000 hectares of the reserve, sightings of capybaras, alligators, geese, macaws and other large species will be more frequent.
The Tambopata Research Center awaits you, a spacious boutique eco-lodge, with a bar, massage center and buffet service in the heart of the Tambopata National Reserve, being the only shelter within the reserve surrounded by dozens of nests of macaws belonging to to the Guacamayos Project.
The accommodation includes rooms from 21 meters to 83 meters suites with private bathroom and a window open to the forest.
Your stay includes three meals a day, tea, coffee, excursions and guided activities, refreshments upon arrival, and transfers to and from the airport. We assign guides in small private 6: 1 groups.
This afternoon, join the Mirador A three to five kilometer walk will take us to viewpoints with magnificent views of the Tambopata that makes its way into the lowlands. The forest on this trail, which regenerates in the old bamboo forest, is good for the howler monkey and the dark titi monkey.
You will have the option of hiking at night when most mammals are active but difficult to see. Easier to find are frogs with shapes and sounds as strange as their natural stories.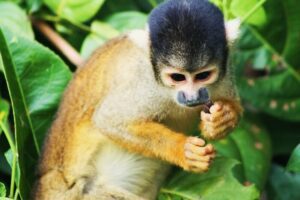 Rainforest Master Hike
Day 3
Walking carefully on the winding "roads" of peaceful leafcutter ants, Rainforest Master Hike will leave you with unforgettable memories and a deep sense of accomplishment. Due to their years of local experience, our guides from the Tambopata Research Center know all about the forest. They will see the smallest bird hidden in the canopy, the most elusive monkey and the most spectacular plant life.
Twilight descends early in the jungle. Beneath the thick canopy of rainforest trees, darkness falls quickly, when the light can no longer slip through the foliage. Now, as evening turns to dusk, you are about to see one of the most spectacular sunsets in the world. The Sunset Cruise floats down the wide river, countless oranges and roses reflected in the water in beautiful patterns.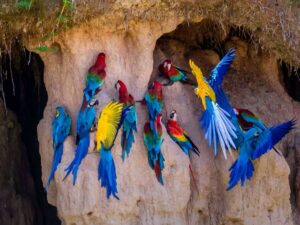 Large macaws and hundreds of parrots.
Day 2
On most clear mornings of the year, dozens of large macaws and hundreds of parrots congregate on this great riverbank in a raucous and colorful spectacle that inspired a National Geographic cover story. Discreetly located fifty meters from the cliff, we will observe macaws with green, scarlet and blue and gold wings and several species of smaller parrots descend to ingest clay. Departures are at dawn when the lick is most active.
This five-kilometer trail covers prototypical rainforest with huge trees crisscrossed by streams and ponds. Among the figs, ceibas and shihuahuacos we will go looking for squirrel monkeys, brown capuchin, spider monkeys and peccaries. TRC is found within this habitat.
Ten minutes upstream from the lodge, explore the island where there is a small pond with a platform in the middle. It is a great place to spot waterfowl such as mallard, woodpecker and hoatzin along with the woodpeckers, orioles, flycatchers and parakeets that call this pond home.
After dinner, the scientists will offer an evening lecture, an in-depth look at the biology of macaws, their eating habits, theories for the use of clay licks, their reproductive and feeding ecology, population fluctuations and threats to its conservation.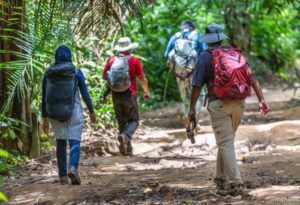 Time to say goodbye
Day 4.- It is time to say goodbye, as the expedition comes to an end.
Your visit will make a direct contribution to Wired Amazon and the National Reserve of Tambopata.
You will take the journey back to the city to the airport for your national flight onwards.
There are no age restrictions for arrival
Accepts these cards and reserves the right to pre-block funds on the card before your arrival.
This is an "All inclusive tour from pick up till drop off"
Pick up from (Airport, bus station or hotel)
03 Nights accommodation in bungalow with private bathroom
ç2 Ticket entrances to natural reserve 1 to (Macaw clay lick)
1 Professional bilingual guide in the jungle
1 Motor boat transportation for all trips
Breakfast (3) Dinner (3) Lunch (3)
All activities listed in the itinerary
Purified Water 24 hours (To recharge your canteen)
Wellingtons (Rubber boots)
No additional payment for single room or (Solo traveler)
Storage room for large luggage
First aid kit
Drop off to (Airport or bus station)
Drinks bought at the bar
Gratuities
Domestic Flights or Bus from/to Cusco, Lima
Extra snacks and drinks
Travel insurance
Health coverage
Extra snacks and drinks
What o bring: Copy of passport. + Mosquito repellent. + Comfortable and light clothing. Sunscreen. Sunglasses Cap. Water bottle. Flashlight. Camera, charger and battery. Rain gear (for example, rain poncho) between January and March. Cash.
If you cancel at least 90 day(s) in advance of the scheduled departure, there is no cancellation fee.
If you cancel within 40 day(s) of the scheduled departure, there is a 100 percent cancellation fee. If you cancel between 40 and 90 day(s) in advance of the scheduled departure, there is a 50 percent cancellation fee. Learn more about cancellations. (All tickets are non refundable)
Frecuently Asked Questions:
What Time does this tour depart from Puerto Maldonado and arrive back In? Arriving by bus?
For people arriving by bus we start at 8:30 a.m departing from our office in Puerto Maldonado
Arriving by Plane? The first plane arriving to Puerto Maldonado is around 10:00 am and the last plane arrives at 4 p.m , so our first group will start the tour around 11:20 For peope arriving later than 12:00 pm we will start tour around 1:00 p.m, for LATAM airlines arriving at 4:00 p.m we will start thetour as soon as posible
Already in Puerto Maldonado? For people that are already in a hotel the pick up will be around 8:00 a.m and start tour at 8:30 a.m approximately
Vaccinations: There are no vaccines required to enter Peru. If you decide to take medicines. These are suggested indications, so please visit your doctor before you travel. For HEPATITIS B Recommended for Peru. Normally 2 months before travel. For RABIES Recommended for Peru. Normally 1 month before travel. For YELLOW FEVER Recommended for Peru. Normally 10 days before travel. Electricity: Depending on the accommodation in the jungle, electricity hours are limited during the day, most hotels offer several hours in the evening, usually until 10 pm, allowing travelers to charge their personal items.
Extra Usefull Information:
What kind of weather can we find in the Amazon Jungle? It is sunny year-round, and like any other tropical rainforest, it can be hot and humid. The average year-round temperature is 27°C (80°F), with nights being slightly cooler. December to June is the rainy season, with April and May experiencing more rain, and temperatures normally between 23°C (73°F) and 30°C (86°F). July to November is the dry season, with temperatures from 26°C (78°F) to 40°C (104°F).