S
k
i
p
2
0
%
T
r
i
p
A
d
v
i
s
o
r
F
e
e
Peru Amazon rainforest tours Natives and Lake 4 Days
We´re Local Jungle Operator
Languages:
English, Español
Start In:
Pto. Maldonado airport/bus station/hotel
Ends In:
Pto. Maldonado airport/bus station/hotel
Languages:
English, Español
Start In:
Pto. Maldonado airport/bus station/hotel
Ends In:
Pto. Maldonado airport/bus station/hotel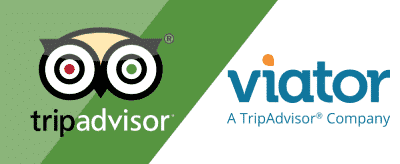 Trip Advisor or Viator Price = $515
Canoe ride, Native Family, Cayman search, Hiking, Jungle walk
Parrots Clay Lick, Monkey Island, Lake Sandoval
A
l
l
i
n
c
l
u
s
i
v
e
n
o
m
o
r
e
p
a
y
m
e
n
t
3 breakfasts, 3 lunches, 3 dinners
Peru Amazon rainforest tours Natives and Lake 4 Days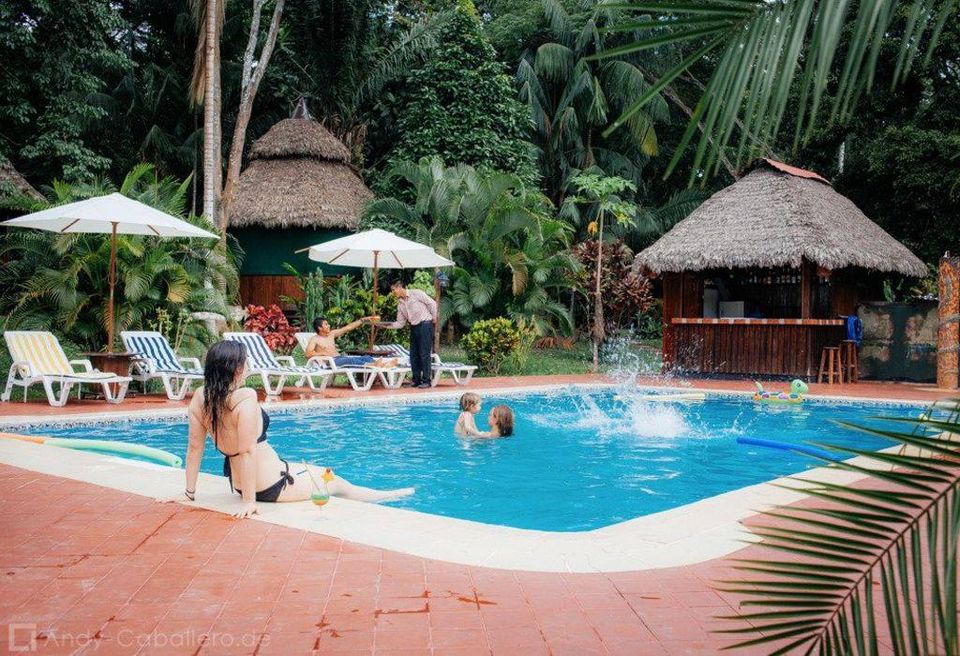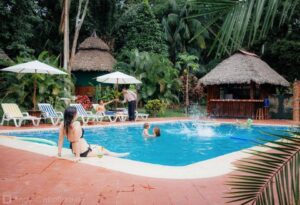 Jungle walk to see medicinal trees
Day 1.- Reception at the airport with transfer to our office, then we will embark towards our eco lodge traveling by boat for 40 minutes of navigation on the Madre de Dios River.
After settling in at the ecolodge, we will have refreshments with seasonal fruits. Passengers arriving with flights after 1 pm for lunch will be served a Box Lunch made of 100% recyclable material.
At 3:30 pm. There will be a walk to observe the tropical trees, medicinal plants and other aspects of the exuberant nature. Tamboen will visit a shiringuero camp, which was once the most important economic activity in the Madre de Dios region.
In the evening before dinner, we will go out for a night boat ride to observe alligators and, with a bit of luck, other animals that populate the river bank at night.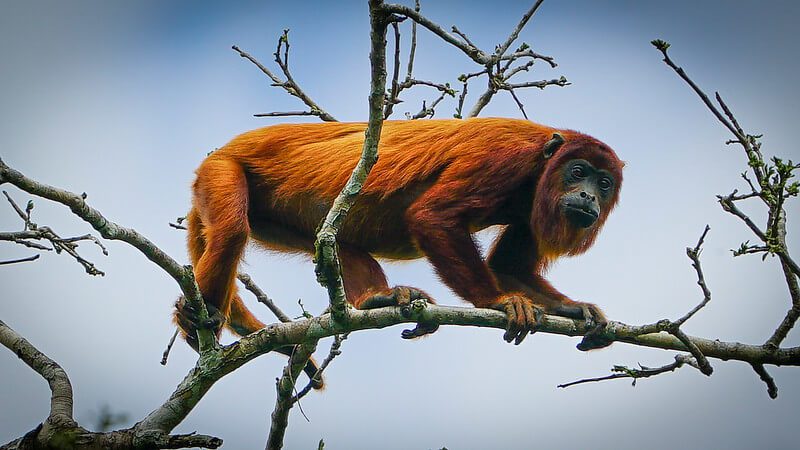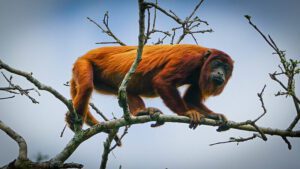 Visit the Sandoval lake and Brazilian nut tree
Day 2.- Wake up at 5:30 am for some coffee or tea before leaving for Lake Sandoval. Your guide will hand out a bagged breakfast and snack for the excursion.
We will hike for 3 km through the wild vegetation, we will enter the territory of Tambopata National reserve, where you will have the chance to admire giant trees, different snakes, capuchin, squirrel and howler monkeys also many birds like the Hoatzin, kingfishers and snakebirds.
Once on Lake Sandoval, we will embark in small rowboats in search of giant river otters and big black caymans
In the afternoon we will visit of one of the two lookout towers of the ecolodge, with a height of 20 and 42 meters and designed for bird watching and the viewing of other types of animals living at this altitude in the canopy.
There will also be a visit to a Brazil nut camp which is one of the most important economic activities in the Madre de Dios region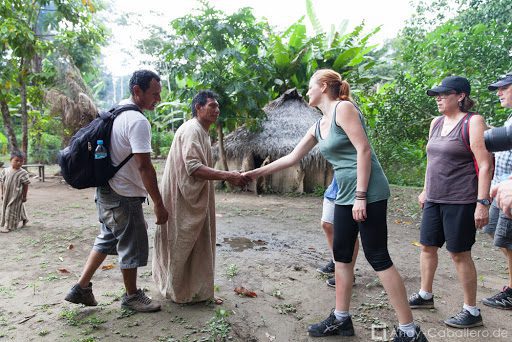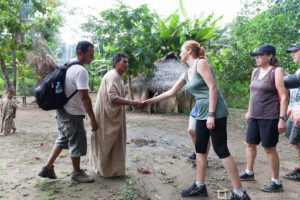 Visit to Machiguenga family and local farm
Day 3.-
After breakfast around 9:00 am. We will visit one of the ethnic groups that exist in the Peruvian Amazon.
A family of Machiguenga natives will show us the cultural value of their ancestors, as well as the language and customs, including traditional clothing, hunting equipment, handicrafts, and the music they play during the ayahuasca ceremonies.
They will teach us how to take advantage of natural products to make tools. After this we will go to a farm in the jungle owned by a local family. Here we will taste different seasonal tropical fruits as well as other local products (cocoa, banana, cocona, breadfruit, noni, yucca, lime).
Return to the hostel to relax and have free time to visit the boutique, cool off in the pool, have a cocktail at the bar, or have a relaxing massage.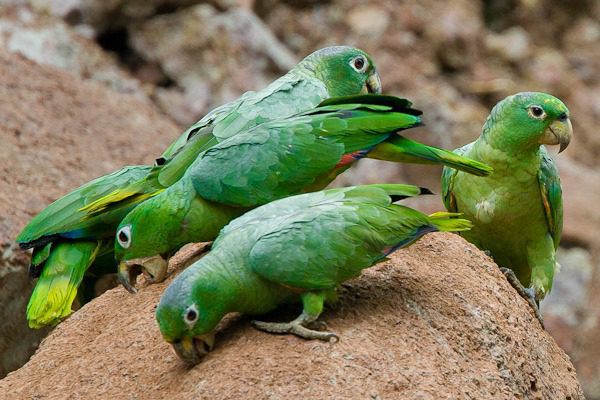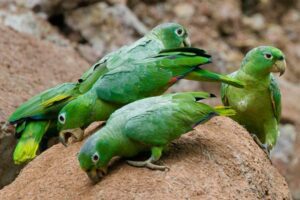 Visit small parrots clay and departure
Day 4.- Get up early in the morning at 5:30 am to have a coffee or tea before going for a short walk to the clay lick, where you will have the possibility of observing 3 to 5 types of parrots. Note that they are not macaws
Parrots come to the clay lick to ingest a special type of clay, which is only found in certain areas of this region. This is a colorful and truly delicious and exciting event.
After breakfast, we will return to the city of Puerto Maldonado by boat.
After a short stop at our office, we will go to the local market where the local population stock up on food and other products. During a short visit, you will be able to appreciate the different traditional products of the area.
After this, we will drop you off at the airport at any time during your departure.
Following Optional Jungle Hotels are available
* If arriving by night bus from Cusco, Puno, etc ( Pick up from bus station is anytime from 5:00 am to 10:00 am) * Tour starts at 10:00 am approx * If arriving by Plane from Cusco, Lima, etc ( Pick up is from airport is from 8:00 am to 14:00 pm) *Tour starts depending on your arrival time, the earlier the better * Pick up from Hotel in Puerto Maldonado cilty is from 8:40 am to 9:20 am * Solo travelers should arrive before 9:40 am, so they can join the group
* This tour ends at 9:00 am, the drop off to the airport or to the bus station is included at any time, this is possible only on the last day of the tour. * People staying in hotel in Puerto Maldonado, the drop off will be at the main square (Plaza de armas)
There are no age restrictions for arrival
We accept all major credit cards including Visa, MasterCard, American Express (AMEX).
We accept also Bank transfer to our account number and PayPal for credit card processing.