S
k
i
p
2
0
%
T
r
i
p
A
d
v
i
s
o
r
F
e
e
Camping to Macaw clay and Sandoval lake Hike 4 Days
Embark on a captivating 4-day adventure that seamlessly combines the tranquility of camping amidst nature with the thrill of exploration in the Peruvian Amazon. Your journey begins with a trek through lush rainforests, leading you to the awe-inspiring Macaw clay lick, where you'll witness a mesmerizing display of colorful macaws and parrots gathering to indulge in mineral-rich clay. As the sun sets, you'll settle into a well-appointed campsite, immersed in the symphony of jungle sounds. The following days bring you to the enchanting Sandoval Lake, a hidden gem nestled within the verdant foliage. With each step of your hike, the anticipation grows as you approach the lake's crystal-clear waters, home to an array of exotic wildlife including giant otters and vibrant bird species. This 4-day escapade is a harmonious blend of nature's beauty, wildlife encounters, and the thrill of outdoor exploration in the heart of the Amazon rainforest.
We´re Local Jungle Operator
Languages:
English, Español
Start In:
Pto. Maldonado airport/bus station/hotel
Ends In:
Pto. Maldonado airport/bus station/hotel
Languages:
English, Español
Start In:
Pto. Maldonado airport/bus station/hotel
Ends In:
Pto. Maldonado airport/bus station/hotel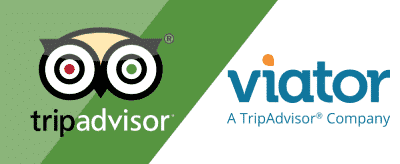 Trip Advisor or Viator Price = $600
Cayman search, Birdwatching, Jungle walk, Canopy Walk, Kayaking
Macaw Clay Lick, Monkey Island
3 breakfasts, 3 lunches, 3 dinners
Camping to Macaw clay and Sandoval lake Hike 4 Days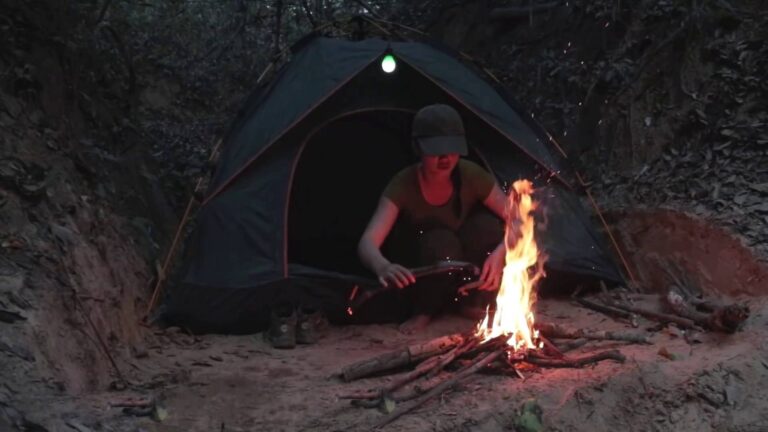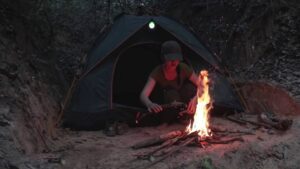 River boat for Camping deep in Amazon
Day 1: Your guide will be waiting for you at the bus terminal, airport or pick you up from your hotel and will take you to our office in Puerto Maldonado. Here we are going to check in and do some last minute shopping for things we might have forgotten such as batteries, repellent, water, snacks or rain poncho. Then we will go to the river port from where we will take our motorized boat to travel for 4-6 hours, lunch on board. We will travel through 3 rivers: Madre de Dios, Piedras and Pariamanu, this last river is one of the most beautiful rivers where it is possible to observe the jungle from both sides of the boat, it is possible to observe during our trip, native families, wood extraction activities and mining, then we will arrive at our camp where we will settle, after settling in we can do an introductory walk to the Amazon, depending on our arrival time at the camp, this will be a great opportunity to learn about the ecosystem of this area, which is rich in giant chestnut trees and to see the Brazil nut, after dinner we will take the boat to go observe caimans (alligator) that become visible in the dark with the help of our flashlights, then we will spend the night in our comfortable camp. In order to get up early the next day and be able to go and observe the macaw clay lick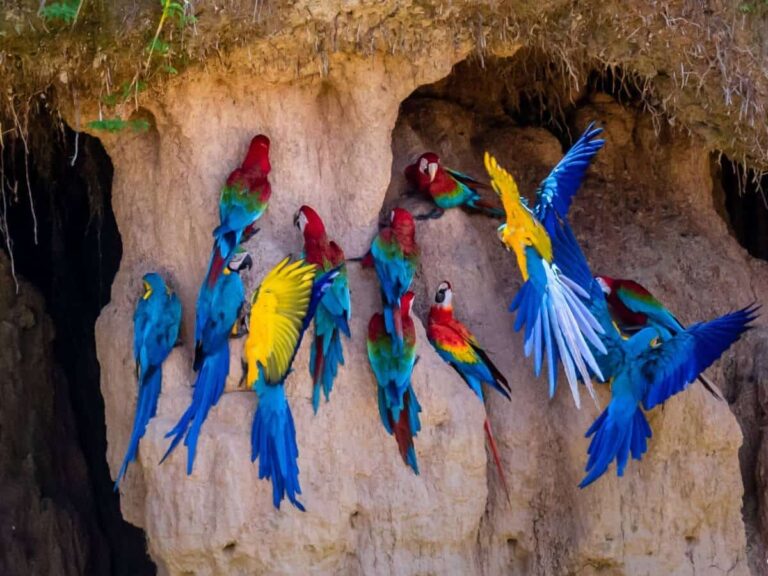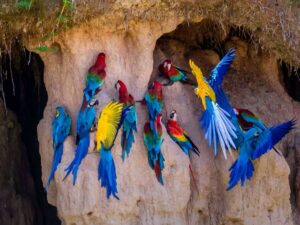 Macaw Clay Lick / Paddle on Lagoon
Day 2: We will leave very early before breakfast to be able to see the first show, the arrival of parrots and parakeets, they usually arrive earlier than the macaws, after seeing these small parrots and seeing the macaws arrive, we will have our breakfast watching the arrival of The macaws that begin to arrive in pairs and settle in the trees near the clay lick, then when there is a large group of around 100 to 200 macaws, they will come down to eat the clay, a multicolored spectacle of flights and screams. This is a show you will never forget. After observing this wonderful macaw clay lick, we will return to the camp for a rest since we have gotten up early to see this spectacle. After lunch, we will travel in our boat for about 15 minutes, to visit a family of locals (López family) where we will visit a small Lake, (the lakes are formations of the meanders of the rivers). We will paddle in this small lake and be able to see a variety of birds, monkeys and maybe with luck a tapir that usually prowls this small lake. Return to our camp. Then we will do a night walk to see species that are only visible at night in the Amazon, return to the camp for dinner, we will spend the night in our comfortable tents.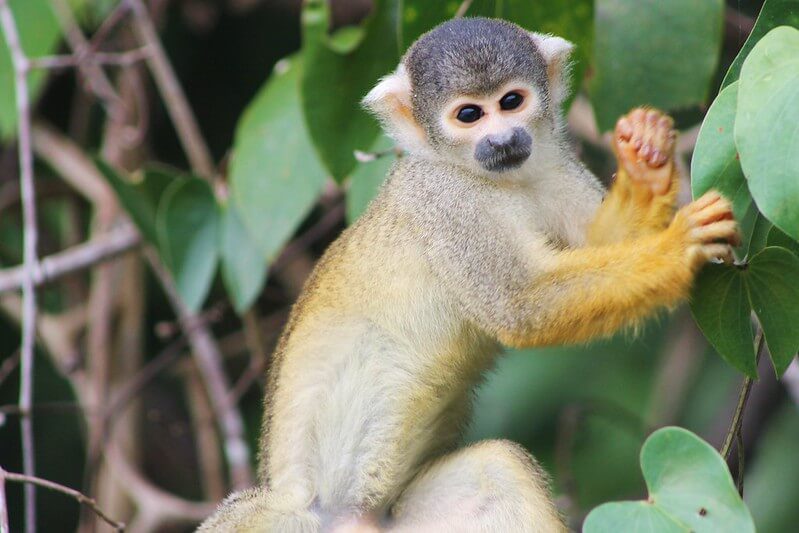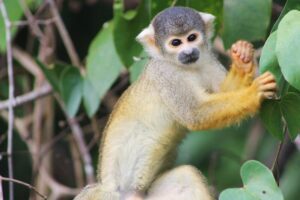 Macaw Clay Lick / to Jungle Lodge
Day 3
We will see the macaw clay lick again, to have the opportunity to see them again if we were not lucky the day before, a great day to see them again or just take more pictures.
Pariamanu clay lick
The Pariamanu clay lick is a bank approximately ten meters high on a side arm of the Pariamanu River, where several species of parrots and macaws gather in a magical display. The most famous visitor is the red and green macaw. These birds have to gather every morning to feed on the clay before they fly off in search of fruits and seeds in the jungle. This show lasts between one and three hours and follows a specific order. Small species such as parakeets and parrotlets arrive first, then parrots appear to be eventually followed by the significantly larger macaws that bring this exceptional explosion of color and sound to a dignified close.
Back to our camp we will have lunch, after lunch we return to Puerto Maldonado, approximately 3 hours and from there travel along the Madre de Dios River, in a trip of approximately 15 minutes, then we will arrive at our next lodge "Amazon Lodge Tambopata " where we will accommodate ourselves in our comfortable rooms, then we will do a night walk to see species that are only visible at night in the Amazon, return to the lodge for dinner, we will spend the night in our comfortable lodge.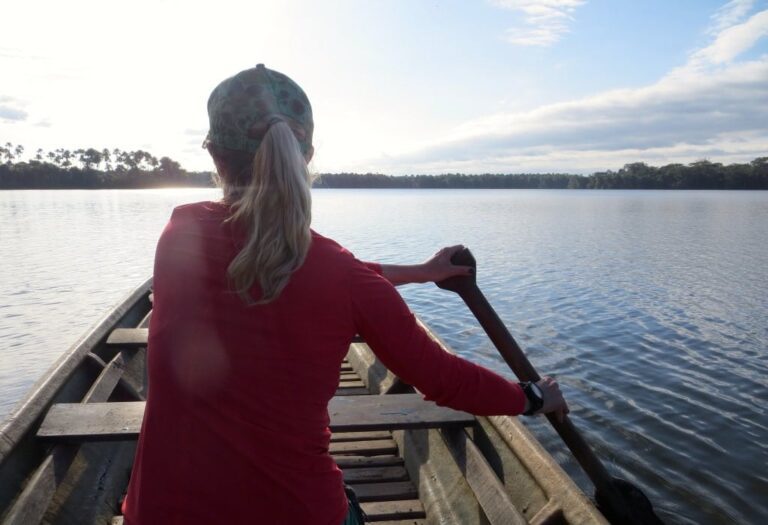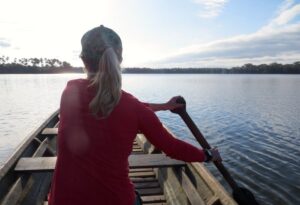 Hike to Lake Sandoval return to Pueto Maldonado city
Day 4.- After breakfast, we will prepare to visit Lake Sandoval for the whole day, from our lodge we will travel 10 minutes by boat until we reach the shores of the port of Lake Sandoval, from where we will enter the Tambopata Reserve "Lago Sandoval "in a walk of approximately 1 hour, then we will arrive at the lake where we will take a rowing canoe to walk through this beautiful lake that houses a great variety of birds and animals. Then at noon we will have lunch in a restaurant on Lake Sandoval, after lunch those who wish can bathe in Lake Sandoval without any danger, then we will return to our lodge, Repack for back to Puerto Maldonado, transfer to the bus station or hotel.
Following Optional Jungle Hotels are available
* If arriving by night bus from Cusco, Puno, etc ( Pick up from bus station is anytime from 5:00 am to 10:00 am) * Tour starts at 10:00 am approx * If arriving by Plane from Cusco, Lima, etc ( Pick up is from airport is from 8:00 am to 14:00 pm) *Tour starts depending on your arrival time, the earlier the better * Pick up from Hotel in Puerto Maldonado cilty is from 8:40 am to 9:20 am * Solo travelers should arrive before 9:40 am, so they can join the group
* This tour ends at 4:00 pm, the drop off to the airport or to the bus station is included at any time, this is possible only on the last day of the tour. * People staying in hotel in Puerto Maldonado the drop off will be at the main square (Plaza de armas)
There are no age restrictions for arrival
We accept all major credit cards including Visa, MasterCard, American Express (AMEX).
We accept also Bank transfer to our account number and PayPal for credit card processing.