S
k
i
p
2
0
%
T
r
i
p
A
d
v
i
s
o
r
F
e
e
Macaw clay - Sandoval Lake - Canopy Walkway 4 Days
Embark on a captivating 4-day adventure into the heart of the Peruvian Amazon, where vibrant biodiversity and ancient traditions converge. The Macaw Clay experience offers an immersive journey through two distinct natural jungle reserves, namely the awe-inspiring Sandoval Lake in Peru's lush rainforest. Nestled within these pristine landscapes, you'll find yourself hosted by two exceptional jungle lodges, each providing a unique vantage point to witness the breathtaking symphony of wildlife and flora. Over these enriching days, you'll witness the spectacular spectacle of vibrant macaws gathering at clay licks, a mesmerizing display of nature's harmony. Guided by expert naturalists, you'll gain insights into the intricate ecosystems, indigenous cultures, and the unparalleled wonders of the Amazon rainforest, creating memories to last a lifetime.
We´re Local Jungle Operator
Languages:
English, Español
Start In:
Pto. Maldonado airport/bus station/hotel
Ends In:
Pto. Maldonado airport/bus station/hotel
Languages:
English, Español
Start In:
Pto. Maldonado airport/bus station/hotel
Ends In:
Pto. Maldonado airport/bus station/hotel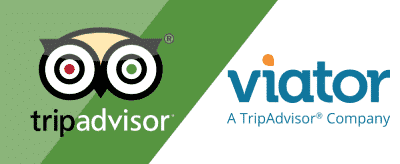 Trip Advisor or Viator Price = $419
Cayman search, Observatory tower, Birdwatching, Jungle walk, Canopy Walk
Macaw Clay Lick, Sandoval Lake
3 breakfasts, 3 lunches, 3 dinners
Macaw clay - Sandoval Lake - Canopy Walkway 4 Days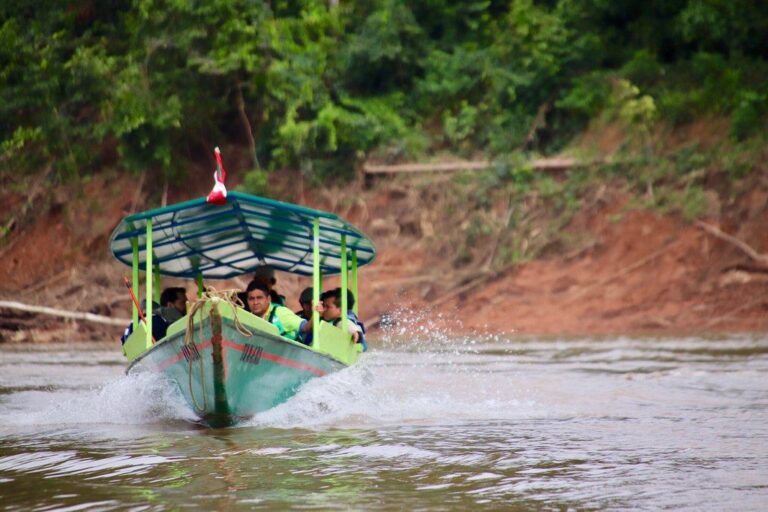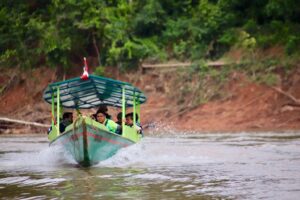 River boat to natural reserve and jungle hike
Day 1:
Arrive in Puerto Maldonado, the capital of Madre de Dios, and take a 2-hour bus and half-boat ride to the jungle lodge. A local welcome drink and a brief introduction to your hotel in the jungle, spacious accommodation with bar, swimming pool and buffet in the Tambopata National Reserve, the furthest sanctuary from Puerto Maldonado, surrounded by monkeys and various species of birds.
Accommodation includes rooms from 24 m2 to 68 m2, apartments with private bathrooms and open windows overlooking the forest.
This afternoon we have a two or three kilometer introductory hike through the jungle, information about the main medicinal plants and at the same time a great opportunity to spot seven different species of monkeys and a walk of different birds in the jungle will be unforgettable.A visit to our 50 m high covered tower completes this first experience.
You have the opportunity to go out by boat in the evening and see the black and white caimans along the Tambopata River. Seeing the reptile in its privileged habitat is an amazing experience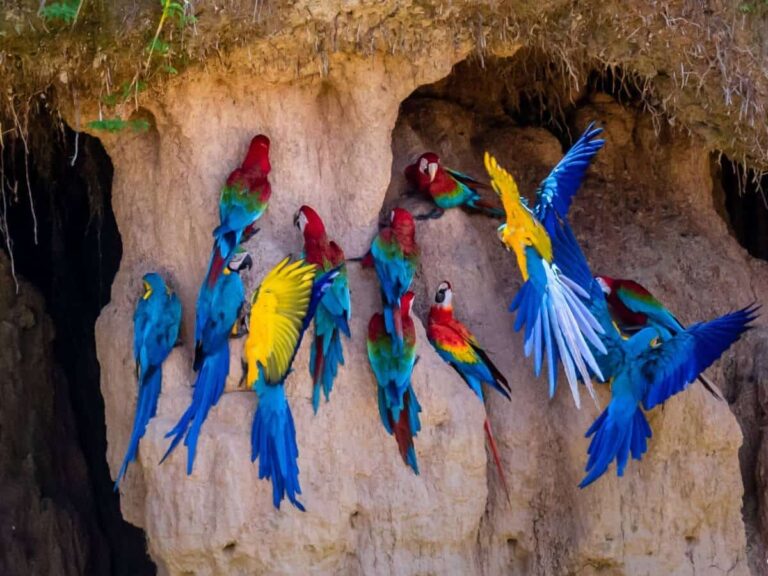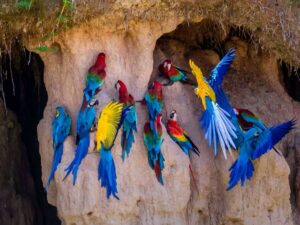 Journey to Macaw clay lick Chuncho
Day 2:
Amazon wildlife uses the first light of day because it's cooler, and so do we. Even if you are on holiday our guides encourage you to do early morning activities and it is well worth it.
Year-round, dozens of great macaws and hundreds of parrots flock to this magnificent levee in a boisterous and colorful spectacle that inspired a cover of National Geographic, obviously much better in the dry season. Sixty to eighty meters from the cliff we will discreetly observe green, scarlet and blue and gold winged macaws as well as several species of smaller parrots descending to devour the clay. Visits occur at dawn when licking is most active.Breakfast is served in front of the Clay Lick Chuncho Macaw.
After lunch we will have time to repack and take our backpacks back to the river first and then the car  back to Puerto Maldonado.
From Puerto Maldonado we will travel to a second nature reserve on the Madre de Dios River by motorboat arriving at the selected lodge in the evening to rest after a long day and recover energy for the next day.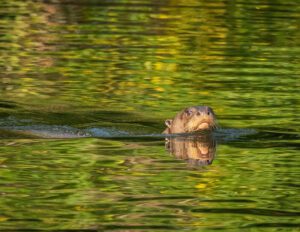 Hike to Sandoval lake for animal spotting
Day 3
Following a hearty breakfast, venture on a scenic 3-kilometer trek through the verdant Amazon rainforest to the captivating Lake Sandoval. As you traverse the lush pathways, the symphony of exotic bird calls and rustling leaves fills the air, immersing you in the enchanting wilderness. Upon reaching the tranquil shores of Lake Sandoval, the world opens up to a realm of natural wonder - reflections of towering trees dance on the pristine water's surface, and the possibility of encountering elusive wildlife stirs the excitement within.
After lunch, if you have energy, you can go for a canopy walkway or if you like, you can leave it for the next day before breakfast.
In the evening unveils yet another opportunity to witness the remarkable diversity of the jungle as it comes alive with nocturnal creatures. After an exhilarating day of exploration, indulge in a delicious dinner amidst the jungle's embrace, followed by a well-deserved rest, lulled by the soothing sounds of the wilderness that surrounds you.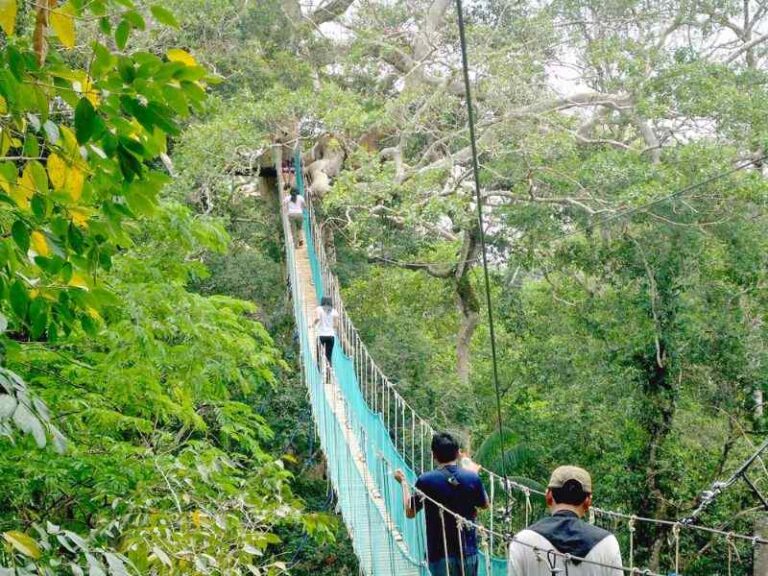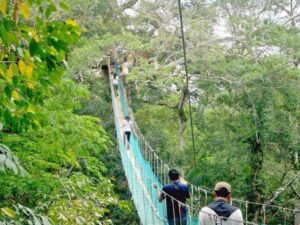 Canopy Walk and return to flight out
Day 4.-
Rise with the sun at 5:30 a.m. amidst the jungle's embrace. Begin your morning with a leisurely stroll to our canopy walkway, elevated approximately 30 meters above the ground, offering an unparalleled vantage point to immerse yourself in nature's beauty. Gazing out from this height, you'll be treated to a panoramic vista of the majestic Madre de Dios river. From the platforms, you'll have the opportunity to observe a diverse array of avian wonders, including toucans, macaws, tanagers, and orioles. Undoubtedly, this promises to be a truly enchanting experience. Following the walk, enjoy a satisfying breakfast before embarking on your journey back to the city. Airport transfers and bus station arrangements will be provided for your convenience.
Following Optional Jungle Hotels are available
* If arriving by night bus from Cusco, Puno, etc ( Pick up from bus station is anytime from 5:00 am to 10:00 am) * Tour starts at 10:00 am approx * If arriving by Plane from Cusco, Lima, etc ( Pick up is from airport is from 8:00 am to 14:00 pm) *Tour starts depending on your arrival time, the earlier the better * Pick up from Hotel in Puerto Maldonado cilty is from 8:40 am to 9:20 am * Solo travelers should arrive before 9:40 am, so they can join the group
* This tour ends at 9:00 am, the drop off to the airport or to the bus station is included at any time, this is possible only on the last day of the tour. * People staying in hotel in Puerto Maldonado the drop off will be at the main square (Plaza de armas)
There are no age restrictions for arrival
We accept all major credit cards including Visa, MasterCard, American Express (AMEX).
We accept also Bank transfer to our account number and PayPal for credit card processing.