S
k
i
p
2
0
%
T
r
i
p
A
d
v
i
s
o
r
F
e
e
Adventure - Sandoval Lake 4 Days
This expedition offers a basic yet comfortable jungle stay that ensures you won't miss out on essential services. Traverse dense rainforests, navigate winding waterways, and immerse yourself in the rich biodiversity of the Amazon. Your journey includes rustic accommodations, authentic wildlife encounters, and opportunities to witness the mesmerizing Sandoval Lake. Explore the mysteries of the jungle, all while enjoying the essential comforts and services that make this backpacking experience both memorable and accessible in the heart of this incredible natural wonder.
We´re Local Jungle Operator
Languages:
English, Español
Start In:
Pto. Maldonado airport/bus station/hotel
Ends In:
Pto. Maldonado airport / bus station or hotel
Languages:
English, Español
Start In:
Pto. Maldonado airport/bus station/hotel
Ends In:
Pto. Maldonado airport / bus station or hotel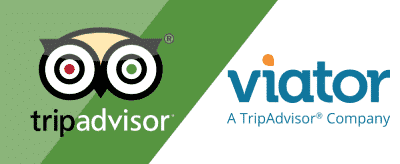 Trip Advisor or Viator Price = $360
Canopy Walk, Kayaking, Cayman search, Jungle walk, Hiking, Canoe ride
Monkey Island, Lake Sandoval
A
l
l
i
n
c
l
u
s
i
v
e
n
o
m
o
r
e
p
a
y
m
e
n
t
3 breakfasts, 3 lunches, 3 dinners
Adventure - Sandoval Lake 4 Days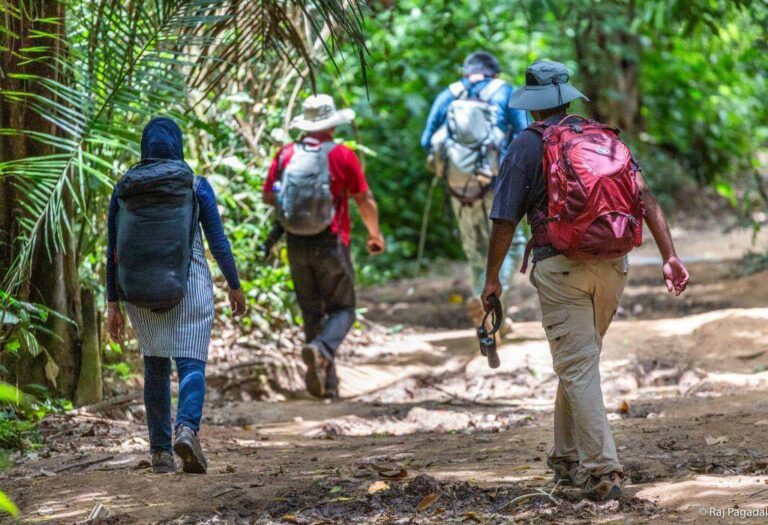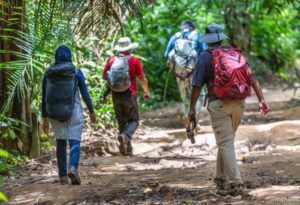 Introductory walk visiting monkey island and see cayman at night
Day 1: Arrive at the airport or bus station and transfer to our office for route briefing. Then, board a boat for a 50 min journey to basic jungle lodge. After settling into our bungalows, embark on a two-hour introductory jungle walk in the dense Tambopata rainforest, guided by a local expert. Encounter ancient trees and spot wildlife like toucans, orioles, parrots, monkeys, snakes, and butterflies. Experience the magic of the Amazon within the Tambopata National Reserve (278,000 hectares protected under Peruvian law). After lunch, visit Monkey Island, home to various monkey species, including brown capuchins and squirrel monkeys. Return to the lodge and, in the evening, go alligator spotting on the Madre de Dios River banks with flashlights. If lucky, you may even see the world's largest family of Peruvian guinea pigs. Return to the lodge for dinner and overnight stay.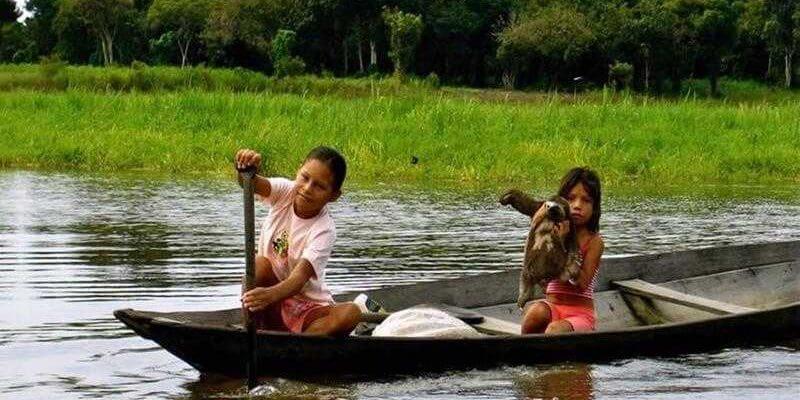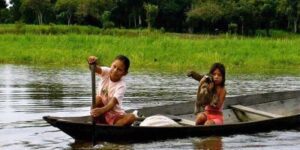 Hike and Canoe ride on Sandoval Lake
Day 2: We will start the day with an early boat trip to Lake Sandoval's entrance, followed by check-in at the control point. We'll embark on a 3-kilometer (2-mile) walk through the nature reserve, guided by experts who will help us spot fascinating wildlife like Hoatzin, puma heron, eagles, howler monkeys, black capuchins, and black alligators. During our canoe ride, we may even have the chance to witness the endangered giant otter family and the massive 4-meter-long caiman. After this adventure, we'll return to the lodge for a delicious typical lunch. In the afternoon, you'll have some free time to relax by the pool. As night falls, we'll embark on a guided night walk around the ecolodge to discover nocturnal creatures, using flashlights to observe diverse insects and, if we're lucky, some snakes. Finally, we'll return to the ecolodge for dinner and a well-deserved rest.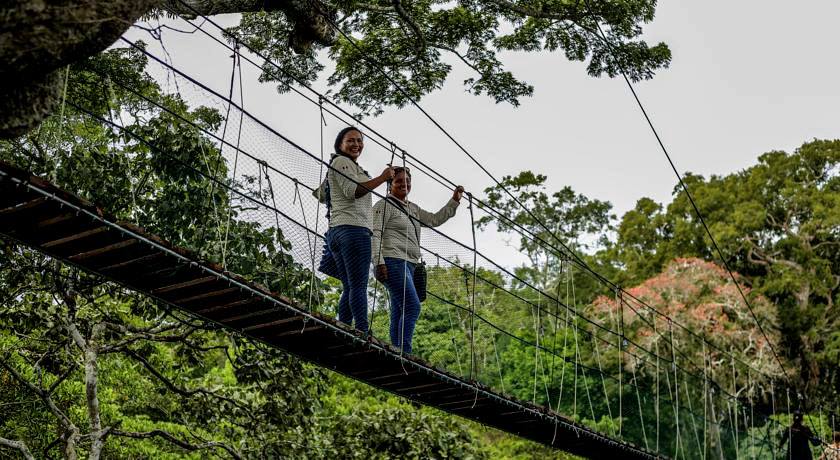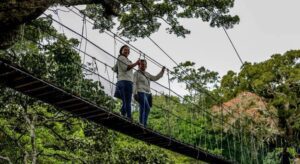 Canopy bridge and river Kayaking
Day 3: After breakfast, we embark on an adventure circuit by ascending towers and stairs that take us high into the rainforest canopy, reaching a platform 30 meters above the forest floor. A suspension bridge leads us to a platform wrapped around a massive tree trunk, home to various orchids and birds' nests. We return via the canopy bridge, optional zipline if weather conditions permit, enjoying breathtaking views and an adrenaline rush.
Following lunch, we venture to the river for kayaking, equipped with life vests and guided by a motorboat for safety. Paddling downstream or against the current, we spot numerous birds inhabiting the area. Before dinner, a night walk through the lodge reveals the diverse world of insects, amphibians, reptiles, and other nocturnal creatures, ending our day in the jungle lodge.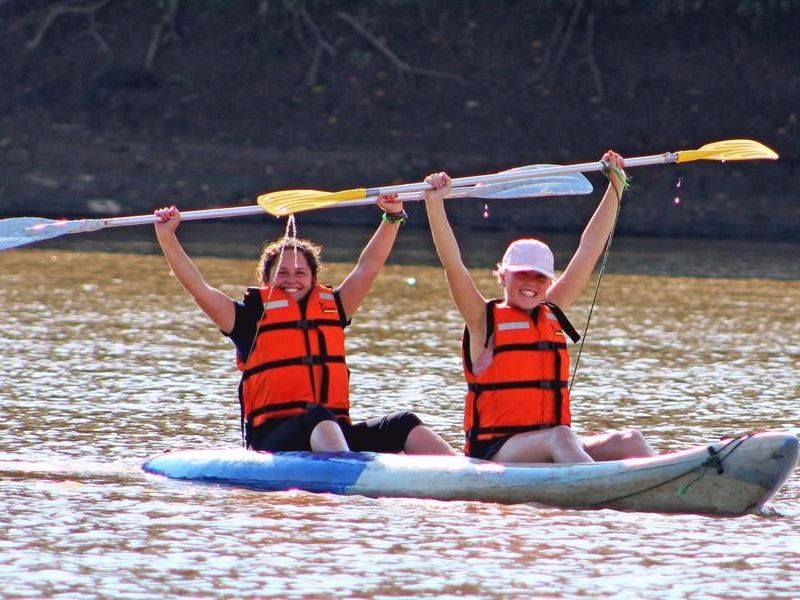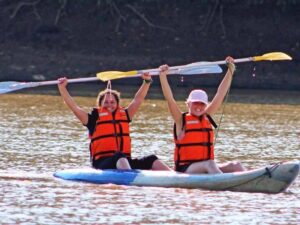 Get back to Puerto Maldonado
Day 4: Last chance to see the Amazon rainforest in the morning before lunch. As the sun rises, the forest comes alive with a symphony of bird calls and rustling leaves. Take this opportunity to capture the breathtaking beauty of the river with your camera, or embark on a short, immersive walk around the ecolodge. Keep your eyes peeled for the curious animals that often venture into the lodge's garden in search of their morning meal.
After a hearty breakfast, it's time to bid farewell to the rainforest's lush embrace. You'll journey back to the city of Puerto Maldonado, reflecting on the incredible experiences and natural wonders you've encountered during your stay. Whether you're heading to the airport for your onward travels or returning toyour hotel in the city, this marks the end of an unforgettable adventure in the heart of the Amazon.
Following Optional Jungle Hotels are available
* If arriving by night bus from Cusco, Puno, etc ( Pick up from bus station is anytime from 5:00 am to 10:00 am) * Tour starts at 10:00 am approx * If arriving by Plane from Cusco, Lima, etc ( Pick up is from airport is from 8:00 am to 14:00 pm) *Tour starts depending on your arrival time, the earlier the better * Pick up from Hotel in Puerto Maldonado cilty is from 8:40 am to 9:20 am * Solo travelers should arrive before 9:40 am, so they can join the group
* This tour ends at 9:00 am, the drop off to the airport or to the bus station is included at any time, this is possible only on the last day of the tour. * People staying in hotel in Puerto Maldonado, the drop off will be at the main square (Plaza de armas)
There are no age restrictions for arrival
We accept all major credit cards including Visa, MasterCard, American Express (AMEX).
We accept also Bank transfer to our account number and PayPal for credit card processing.