S
k
i
p
2
0
%
T
r
i
p
A
d
v
i
s
o
r
F
e
e
Macaw clay and Lake in Amazon (Super Deal) 4 Days
With this Peru Amazon tour we will share with you our passion for the Amazon birdwatching, this is an unparalleled experience in the Peruvian Amazon jungle that will allow you to birdwatch some of the most unique species of birds in different ecosystems such as high forest, bamboo forest, very lowlands, swampy areas, forest terrain, river banks during the day. and at night and much more in the heart of the Tambopata National Reserve. You will have the opportunity to observe birds such as the famous Amazon Kingfisher, Orinoco Goose, the Black Caracara, the Bat Hawk, the Great Potoo, the rare Hoatzin or the impressive Hornet Screamer among others.
We´re Local Jungle Operator
Languages:
English, Español
Start In:
Pto. Maldonado airport/bus station/hotel
Ends In:
Pto. Maldonado airport/bus station/hotel
Languages:
English, Español
Start In:
Pto. Maldonado airport/bus station/hotel
Ends In:
Pto. Maldonado airport/bus station/hotel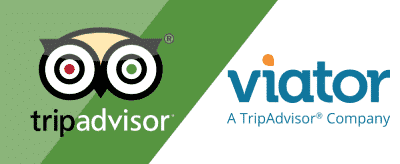 Trip Advisor or Viator Price = $419
Cayman search, Birdwatching, Jungle walk, Canopy Walk, Kayaking
Macaw Clay Lick, Monkey Island
3 breakfasts, 3 lunches, 3 dinners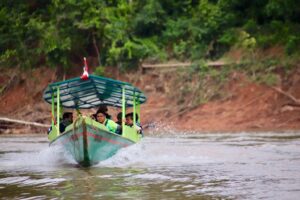 River boat to natural reserve and jungle hike
Day 1: We will begin the tour at 8:30 in the morning pick up from your hotel. We will have 2 hours of travel, the first hour on our interoceanic highway, then on a small road traveled to reach the banks of the Tambopata River. Our boat will be waiting for us, to move 30 minutes upriver to our ecolodge on the Tambopata river.On the way we will observe capybaras and many coastal birds along the riverbank. Upon arrival at the hostel, we will receive a welcome drink. The administrator will give us a brief description of all our services during your stay with us.We will provide your respective room. Then you can walk in a primary forest where, your guide will provide you with detailed information of the Tambopata national reserve, the uncontacted tribes, survival techniques, general information about the main medicinal plants and economic activities, in this part of the Peruvian AmazonWhen it gets dark we will go by boat to the river to be lucky enough to observe alligators, capybaras and maybe some predator that is near the river at night wanting to hunt something.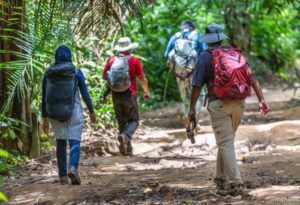 Visit to Collpa of mammals and jungle farm
Day 3 When we wake up we will hear the sounds of the birds, maybe the howler monkeys, enjoying the sunrise. After breakfast, we will go to the mammalian collpa.where you can see different species of animals: (tapir, capybara, wild pigs, lazy bears ...) feeding on salts and minerals with digestive properties in this place.On the way back to the lodge, you can see birds, butterflies, monkeys (spiders, friars, cappuccinos, howlers ...).Lunch at the lodge and then we will go out to visit the farm. where we will have information on the variety of crop plants in the area, such as: cassava, sugar cane, oranges, banana, among others ... and why not, try these fruits of the region according to the time of the year, as well as the medicinal plants that the locals use so far to calm their ailments.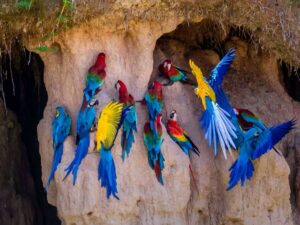 Journey to Macaw clay lick Chuncho and kayak
Day 2: Today we will visit the Chuncho Macaw clay lick, so we will get up very early and after a delicious coffee, we will continue at 5:00 am upstream for approximately 1 hour. With all the sunrise just for us in our boat.We are quite likely to observe jaguars or perhaps an anaconda on the banks of the Tambopata national reserve.Upon arriving at our destination, chuncho macaw lick clay. We will know a complete show of parrots and macaws, we will learn closely the reasons why these birds and many other mammals that need the clay of this wall in their daily diet throughout the year.It is a unique show that entertains us, from 6:00 a.m. at 11:00 a.m. Our delicious breakfast will be in front of the Collpa Chuncho.After this activity we will continue to our lodge where we will have our delicious lunch, after replenishing our energies, we will take our kayak and enter the waters of the Tambopata River to enjoy this highly safe and recommended activity.Dinner at the lodge and then we will take our flashlights for a night walk in search of insects, arachnids, tarantulas and maybe some snake, armadillo, night monkey or some tapir near the Lodge.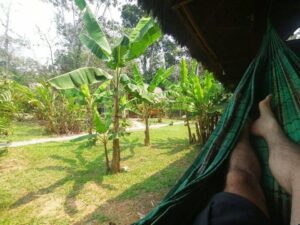 Get back to Puerto Maldonado
Day 4.- Last chance to see the amazon rainforest in the morning before lunch you could go for pictures of the river or for a short walk around the ecolodge where many animas go looking for food on the garden. After breakfast, return to the city of Puerto Maldonado, ready for transfer to the airport or hotel.
There are no age restrictions for arrival
Accepts these cards and reserves the right to pre-block funds on the card before your arrival.
This is an "All inclusive tour from pick up till drop off"
Pick up from (Airport, bus station or hotel)
03 Nights accommodation in bungalow with private bathroom
ç2 Ticket entrances to natural reserve 1 to (Macaw clay lick) + 1 to (Sandoval lake)
1 Professional bilingual guide in the jungle
1 Motor boat transportation for all trips
Breakfast (3) Dinner (3) Lunch (3)
All activities listed in the itinerary
Purified Water 24 hours (To recharge your canteen)
Wellingtons (Rubber boots)
No additional payment for single room or (Solo traveler)
Storage room for large luggage
First aid kit
Drop off to (Airport or bus station)
Drinks bought at the bar
Gratuities
Domestic Flights or Bus from/to Cusco, Lima
Extra snacks and drinks
Travel insurance
Health coverage
Extra snacks and drinks
What o bring: Copy of passport. + Mosquito repellent. + Comfortable and light clothing. Sunscreen. Sunglasses Cap. Water bottle. Flashlight. Camera, charger and battery. Rain gear (for example, rain poncho) between January and March. Cash.
If you cancel at least 90 day(s) in advance of the scheduled departure, there is no cancellation fee.
If you cancel within 40 day(s) of the scheduled departure, there is a 100 percent cancellation fee. If you cancel between 40 and 90 day(s) in advance of the scheduled departure, there is a 50 percent cancellation fee. Learn more about cancellations. (All tickets are non refundable)
Frecuently Asked Questions:
What Time does this tour depart from Puerto Maldonado and arrive back In? Arriving by bus?
For people arriving by bus we start at 8:30 a.m departing from our office in Puerto Maldonado
Arriving by Plane? The first plane arriving to Puerto Maldonado is around 10:00 am and the last plane arrives at 4 p.m , so our first group will start the tour around 11:20 For peope arriving later than 12:00 pm we will start tour around 1:00 p.m, for LATAM airlines arriving at 4:00 p.m we will start thetour as soon as posible
Already in Puerto Maldonado? For people that are already in a hotel the pick up will be around 8:00 a.m and start tour at 8:30 a.m approximately
Vaccinations: There are no vaccines required to enter Peru. If you decide to take medicines. These are suggested indications, so please visit your doctor before you travel. For HEPATITIS B Recommended for Peru. Normally 2 months before travel. For RABIES Recommended for Peru. Normally 1 month before travel. For YELLOW FEVER Recommended for Peru. Normally 10 days before travel. Electricity: Depending on the accommodation in the jungle, electricity hours are limited during the day, most hotels offer several hours in the evening, usually until 10 pm, allowing travelers to charge their personal items.
Extra Usefull Information:
What kind of weather can we find in the Amazon Jungle? It is sunny year-round, and like any other tropical rainforest, it can be hot and humid. The average year-round temperature is 27°C (80°F), with nights being slightly cooler. December to June is the rainy season, with April and May experiencing more rain, and temperatures normally between 23°C (73°F) and 30°C (86°F). July to November is the dry season, with temperatures from 26°C (78°F) to 40°C (104°F).