S
k
i
p
2
0
%
T
r
i
p
A
d
v
i
s
o
r
F
e
e
Amazon jungle tours Peru Sandoval Lake 3 Days
Embark on an unforgettable 3-day Amazon jungle trip in Peru, exploring the pristine wilderness around Sandoval Lake. Traverse lush rainforests teeming with exotic flora and fauna, and witness the breathtaking biodiversity of the region. Your guided tour will include thrilling wildlife spotting opportunities, tranquil boat rides on the lake, and immersive encounters with many speecies of monkeys. Experience the enchanting beauty of the Amazon as you create lasting memories on this extraordinary experience.
We´re Local Jungle Operator
Languages:
English, Español
Start In:
Pto. Maldonado airport/bus station/hotel
Ends In:
Puerto Maldonado Airport or Hotel
Languages:
English, Español
Start In:
Pto. Maldonado airport/bus station/hotel
Ends In:
Puerto Maldonado Airport or Hotel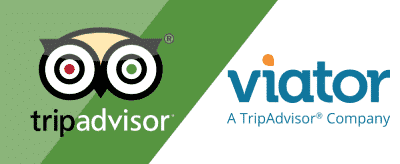 Trip Advisor or Viator Price = $290
Cayman search, Jungle walk, Hiking, Canoe ride
Monkey Island, Lake Sandoval
A
l
l
i
n
c
l
u
s
i
v
e
n
o
m
o
r
e
p
a
y
m
e
n
t
2 breakfasts, 2 lunches, 2 dinners
Amazon jungle tours Peru Sandoval Lake 3 Days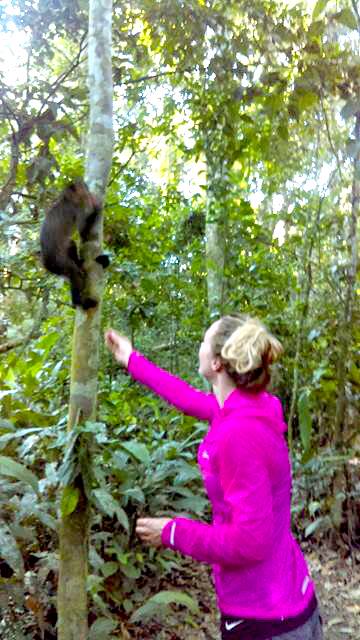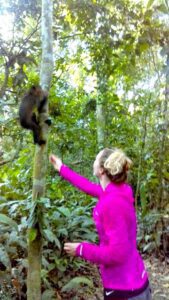 Introductory walk visiting monkey island and see cayman at night
Day 1.- Reception at the airport or bus station and transfer to our office to receive information about the route.
Embark on an exhilarating introduction to the heart of the Peru Amazon with a two-hour jungle hike that takes you deep into its lush embrace. As you navigate through the dense foliage, you'll encounter a mesmerizing array of wild inhabitants – from the vibrant plumage of toucans and orioles to the playful antics of monkeys swinging through the canopy. Keep your senses alert as the forest floor comes alive with the slithering of snakes and other intriguing creatures that call this place home. After a satisfying lunch, venture to the captivating "Monkey Island," where you'll witness these agile beings in their natural habitat, an experience that adds a touch of enchantment to your day.
As the sun sets and darkness blankets the landscape, embark on a thrilling nighttime adventure by motorboat, seeking the elusive caimans that populate the Amazon's waterways. Guided by our experienced team, you'll navigate the inky waters, eyes peeled for the telltale glint of caiman eyes. This unique excursion offers a glimpse into the Amazon's nocturnal realm and a chance to witness these ancient reptiles in their element. This day of exploration promises a rich tapestry of encounters, connecting you intimately with the diverse life that thrives within the remarkable Peru Amazon.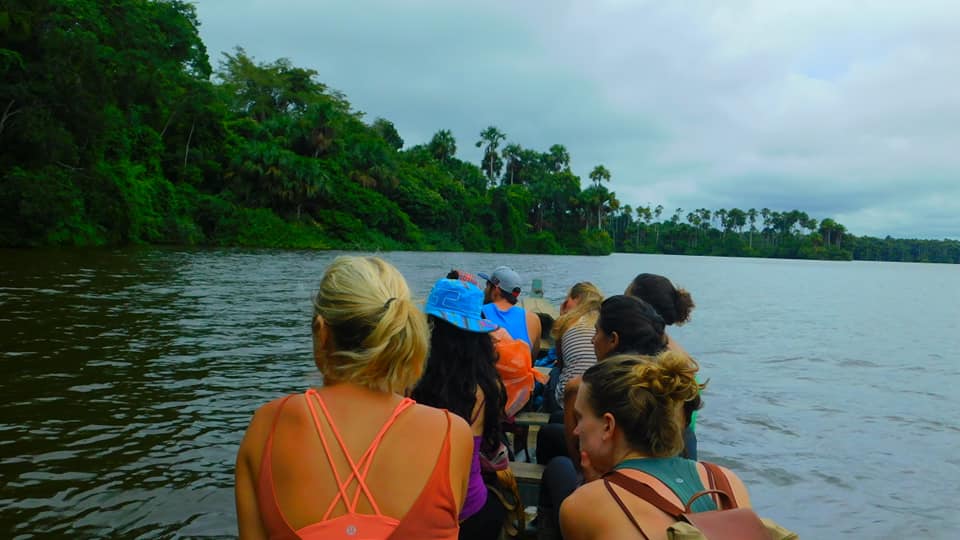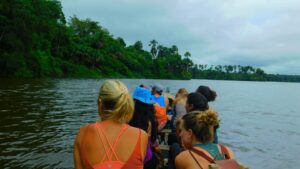 Hike and Canoe ride on Sandoval Lake
Day 2.-
Kickstart your day with an early morning adventure as we set out on a brief boat journey to the entrance of Lake Sandoval. After a hassle-free check-in at the control point, we'll embark on a captivating 3-kilometer trek that leads us deeper into the heart of this natural wonder. Traverse the lush surroundings as you absorb the symphony of sounds and the sights of vibrant flora and fauna, immersing yourself in the unspoiled beauty of the surroundings.
Following a delectable lunch, seize the opportunity to unwind and recharge in the comfort of hammocks or simply bask in the tranquil ambiance of the Amazonian setting. As twilight descends, prepare for another remarkable experience – a night walk that unveils the secrets of the nocturnal world. Guided by our experts, you'll explore the hidden corners of the rainforest after dark, encountering the mysteries that come alive under the moonlit sky. This day promises a seamless blend of exploration, relaxation, and immersion into the captivating rhythms of the Amazon rainforest.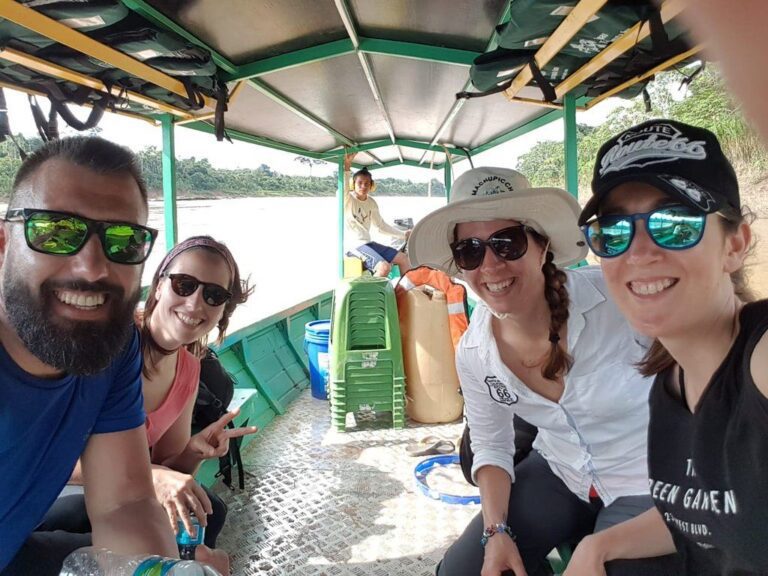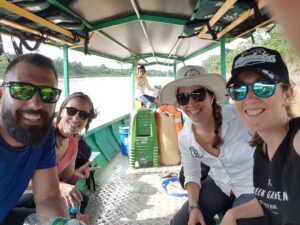 Motor boat journey back to Puerto Maldonado
Day 3 Embrace the early morning serenity of the jungle at 5:30 am as we embark on an enchanting adventure. The Canopy Walkway presents a unique opportunity to perceive the rainforest from an entirely new vantage point – suspended approximately 30 meters above the ground. Traverse the bridges that span this elevated realm and relish the chance to witness nature's grandeur from high altitudes. As you tread along the walkway, breathtaking vistas of the Madre de Dios River will unfold, offering a panoramic spectacle that's sure to leave you awe-inspired. The walkway's platforms serve as perfect vantage points, providing glimpses of various avian wonders such as toucans and macaws, adding an extra layer of enchantment to your rainforest experience.
Morning breakfast and return to the city of Puerto Maldonado 1 hour and a half of Motor boat drive, ready for transfer to the airport or hotel. (Normally get to PEM at 9:00 am) for earlier flights let us know in advance please
Following Optional Jungle Hotels are available
* If arriving by night bus from Cusco, Puno, etc ( Pick up from bus station is anytime from 5:00 am to 10:00 am) * Tour starts at 10:00 am approx * If arriving by Plane from Cusco, Lima, etc ( Pick up is from airport is from 8:00 am to 14:00 pm) *Tour starts depending on your arrival time, the earlier the better * Pick up from Hotel in Puerto Maldonado cilty is from 8:40 am to 9:20 am * Solo travelers should arrive before 9:40 am, so they can join the group
* This tour ends at 4:00 pm, the drop off to the airport or to the bus station is included at any time, this is possible only on the last day of the tour. * People staying in hotel in Puerto Maldonado the drop off will be at the main square (Plaza de armas)
There are no age restrictions for arrival
We accept all major credit cards including Visa, MasterCard, American Express (AMEX).
We accept also Bank transfer to our account number and PayPal for credit card processing.